EU-28 Dairy Intervention Price Update – Apr '20
EU-28 dairy intervention schemes, which involve selling quantities of products into government owned storage to help stabilize prices, have historically been made available to producers. Under intervention schemes, the European Commission can purchase up to 50,000 tons of butter and 109,000 tons of skim milk powder (SMP) and, if exceeded, a tendering process takes place for additional volumes. Intervention schemes can be seasonal or in response to exceptional market conditions. The intervention scheme is typically open from the beginning of March until the end of September each year.
The 2020 intervention schemes opened at the beginning of Mar '20 and will be made available until the end of Sep '20.
The trigger price for butter intervention has traditionally been set at €2,218/ton ($1.12/lb. equivalent using a 0.90 USD/EUR exchange rate), while the SMP intervention trigger price has been traditionally set at €1,698/ton ($0.86/lb. equivalent using a 0.90 USD/EUR exchange rate).
As of Apr '20, average European butter prices remained 16% above the intervention trigger price, despite declining sharply over recent weeks, however average SMP prices have approached the intervention trigger price.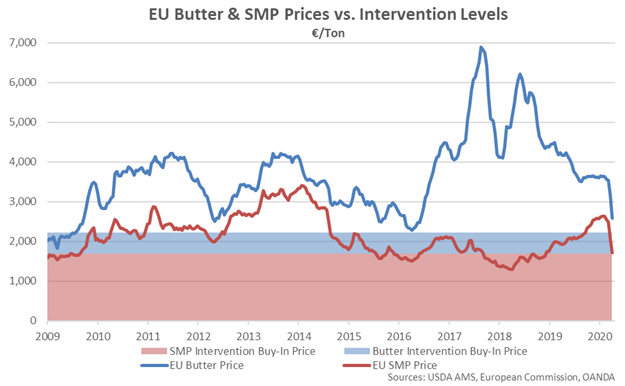 EU-28 butter prices have remained significantly above trigger price levels over recent years while EU-28 SMP prices have remained above trigger price levels since the beginning of 2019.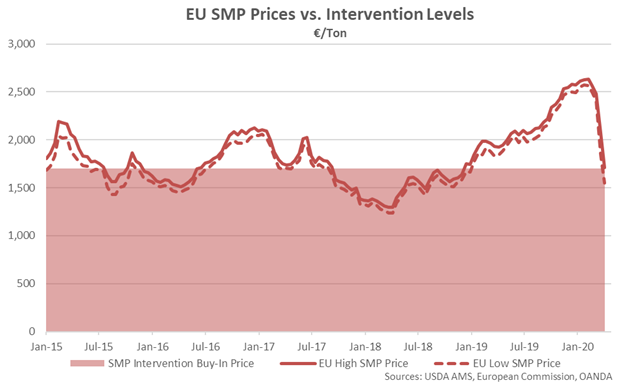 Significant quantities of SMP intervention stocks were purchased throughout 2016 as prices remained below intervention trigger prices throughout the first half of the year. SMP stocks were rapidly withdrawn throughout the second half of 2018 and early months of 2019 via a tendering process and have been fully withdrawn since mid-2019.