Chinese Dairy Imports Update – Apr '22
Executive Summary
Chinese dairy import figures were recently updated with values spanning through Mar '22. Highlights include:
Chinese dairy imports finished below previous year levels for just the second time in the past 31 months throughout Mar '22, declining by 8.7%. The YOY decline in Chinese dairy imports was the largest experienced throughout the past 45 months on a percentage basis. Imports remained at the third highest seasonal level on record, however.
The market share of Chinese dairy imports originating from within U.S. declined most significantly from the previous year throughout Mar '22. Product originating from within the U.S. accounted for just 2.9% of total Chinese dairy imports throughout the month, while New Zealand and the EU-27+UK combined to account for just under three quarters of the import share.
Declines in Chinese dairy import volumes experienced throughout the first two months of the 2022 calendar year were led by whey, followed by skim milk powder, while growth was led by whole milk powder.
Chinese Customs Data
Mar '22 Total Chinese Dairy Imports Declined to a Three Month Low Level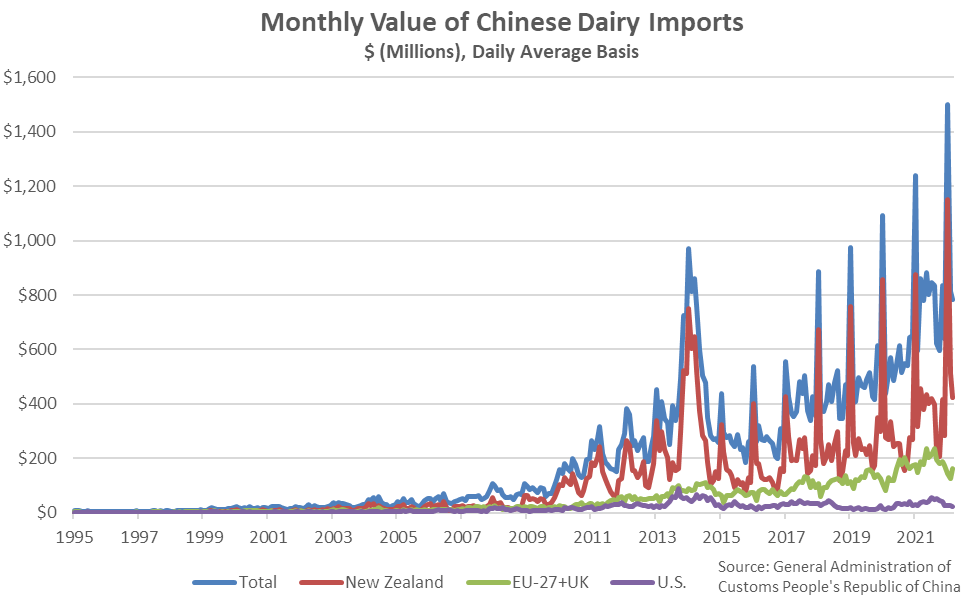 Mar '22 Chinese Dairy Imports Declined 3.6% MOM While Finishing 8.7% Lower YOY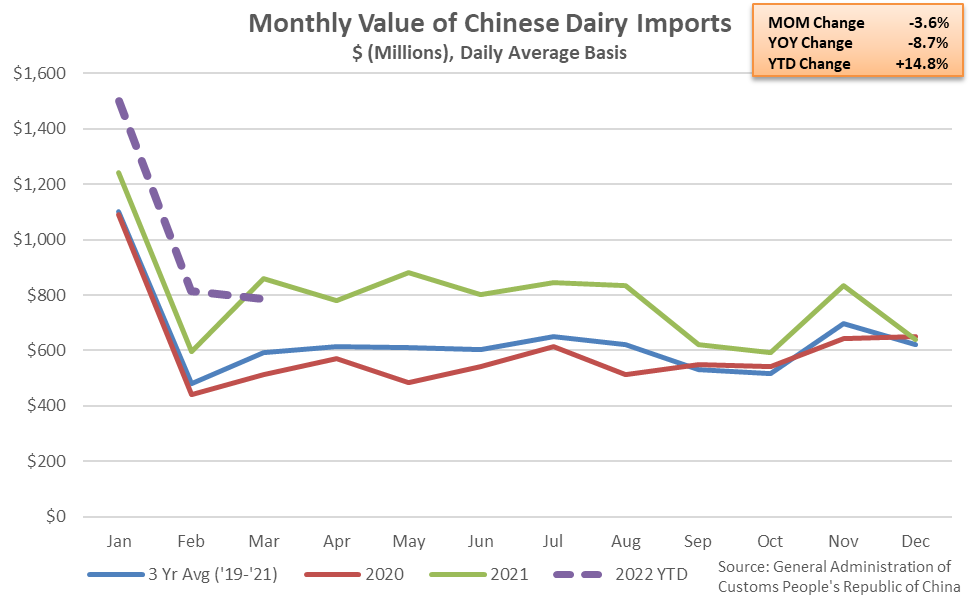 Mar '22 Total Chinese Dairy Imports Remained at the Third Highest Seasonal Level on Record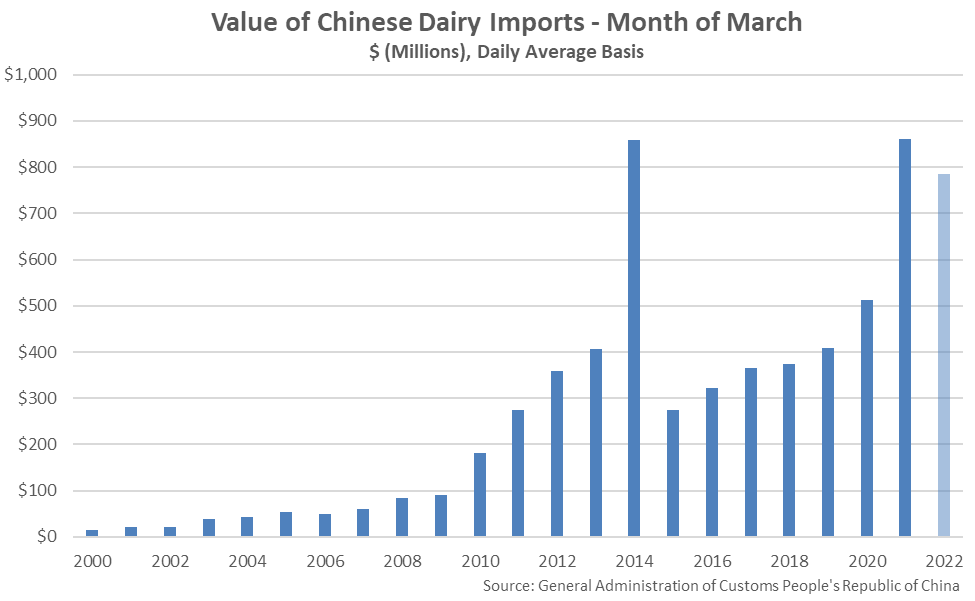 The Mar '22 YOY Decline in Chinese Dairy Imports was the Largest in the Past 45 Months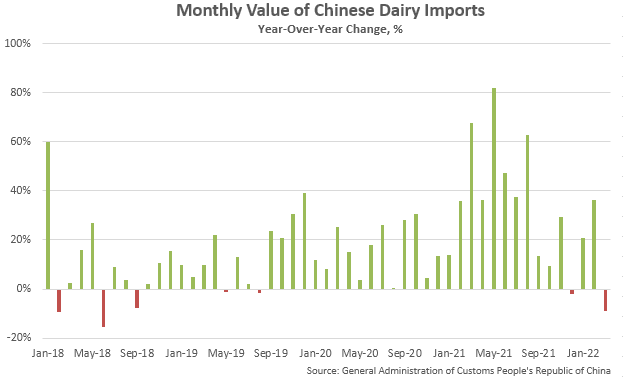 New Zealand & the EU-27+UK Accounted for 74% of Total Mar '22 Chinese Dairy Imports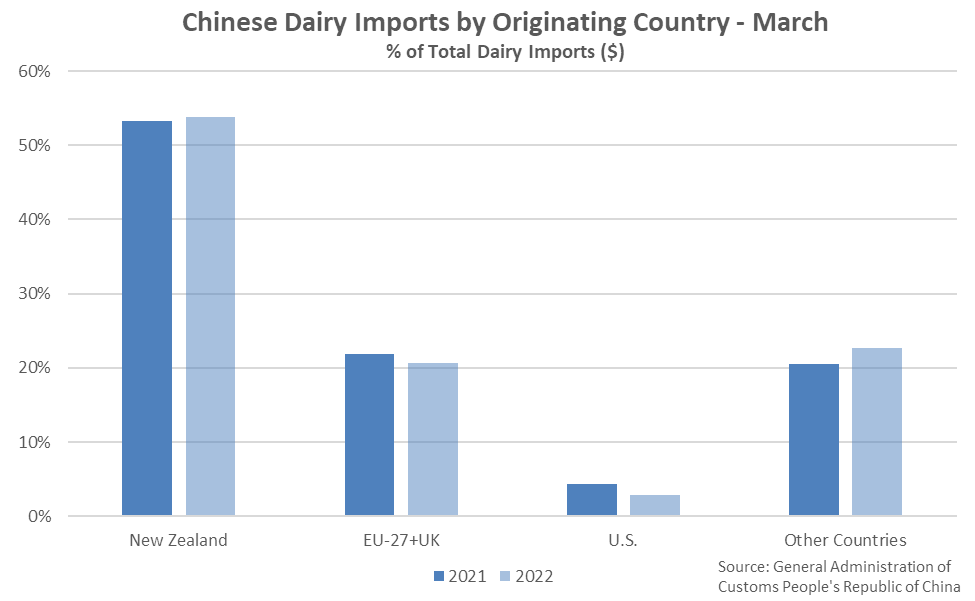 The Mar '22 U.S. Share of Total Chinese Dairy Imports Declined Most Significantly YOY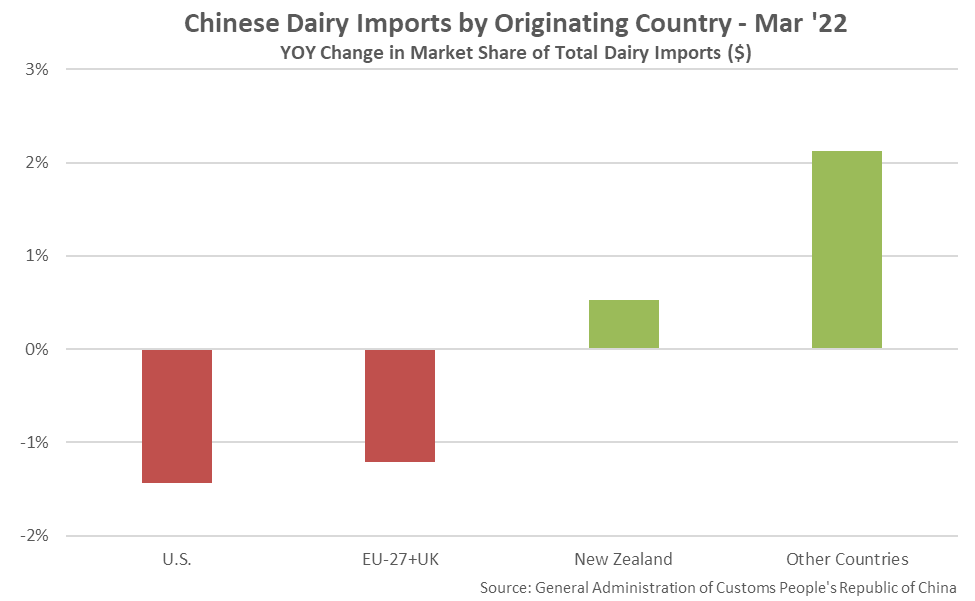 Chinese Dairy Imports From New Zealand up the Most Over the Past 12 Months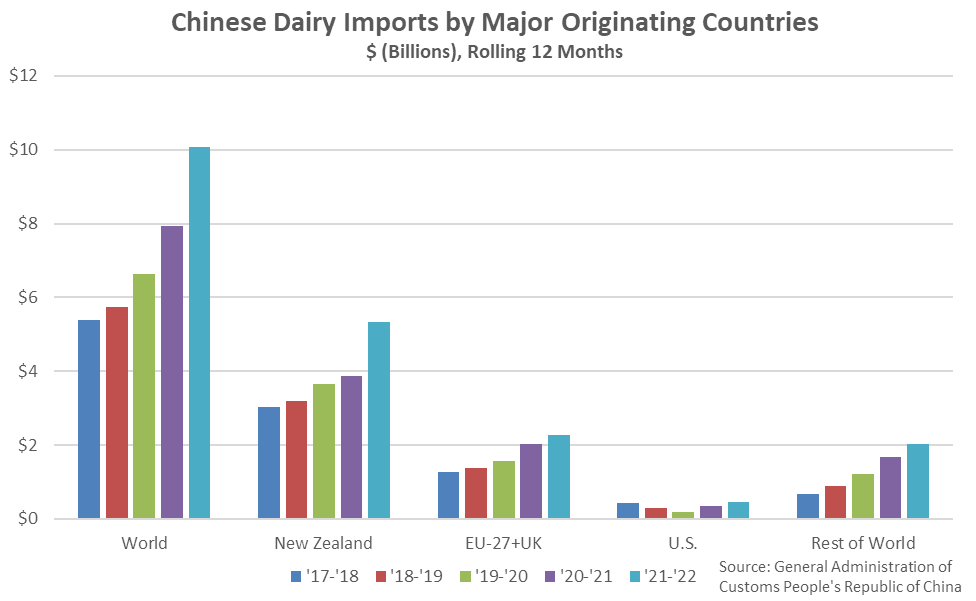 Chinese Dairy Import Volumes by Product (Lagged One Month)
Supplemental Chinese dairy import breakouts by product are made available by the European Commission, with data lagging the Chinese customs data. Charts highlighting the Chinese import volumes by product through Feb '22 are shown below.
Whole Milk Powder Accounted for Over Half of All Jan-Feb '22 Chinese Dairy Imports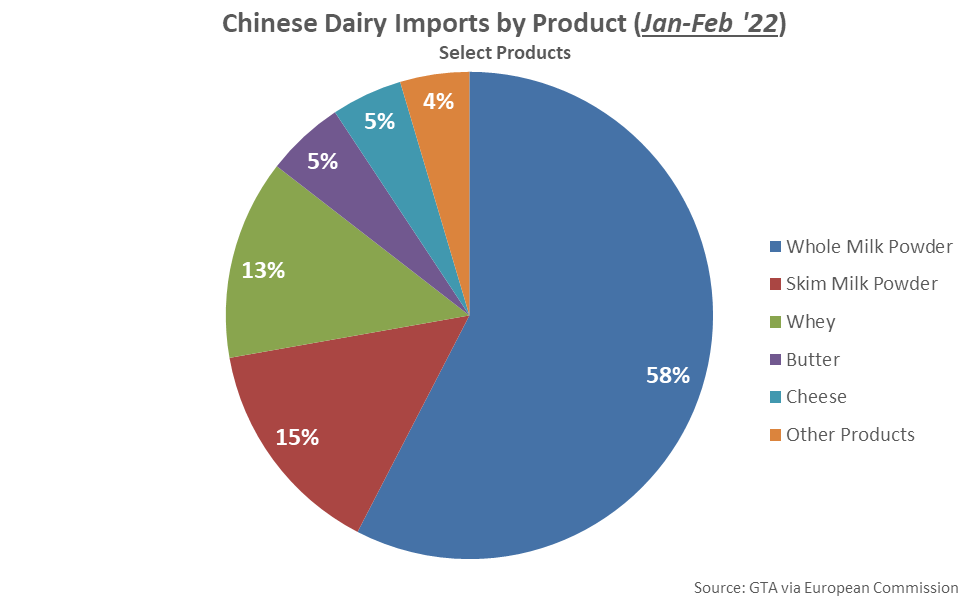 Jan-Feb '22 Chinese Whey Imports Down, Whole Milk Powder Imports Up YOY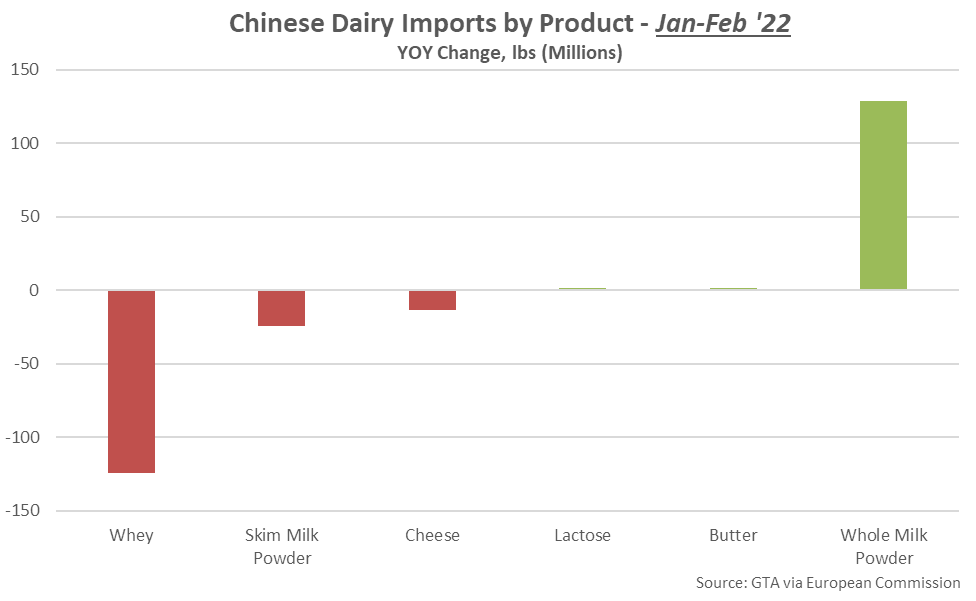 Feb '22 Chinese WMP Import Volumes Finished Down 58.3% MOM but up 24.0% YOY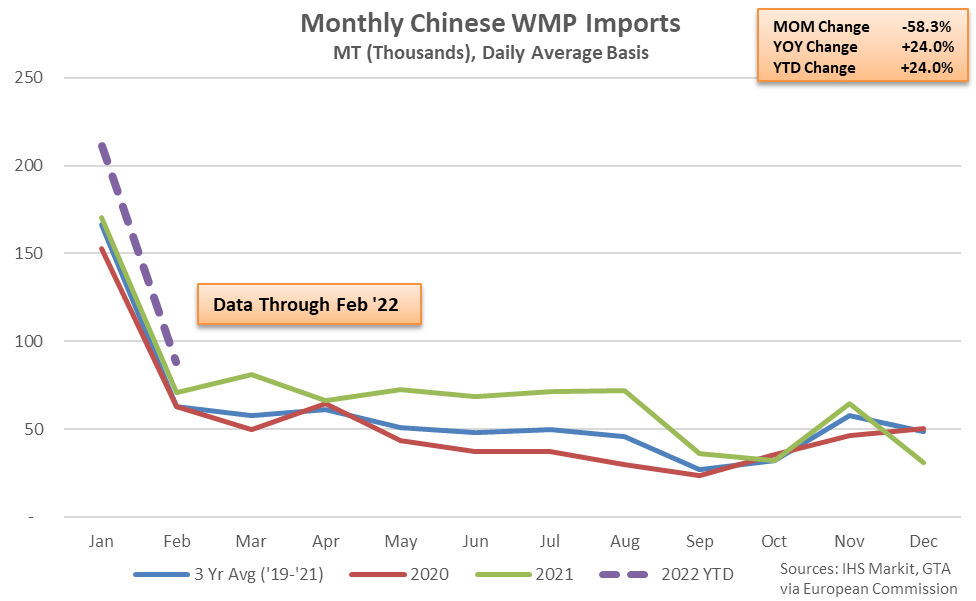 Feb '22 Chinese WMP Imports Reached the Second Highest Seasonal Level on Record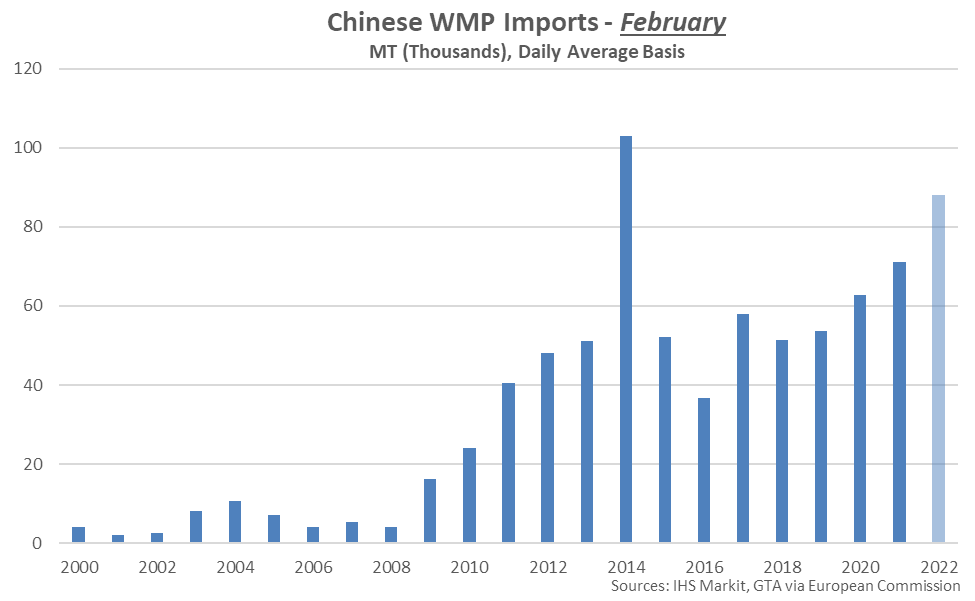 Feb '22 Chinese SMP Import Volumes Finished Down 45.2% MOM and 12.6% YOY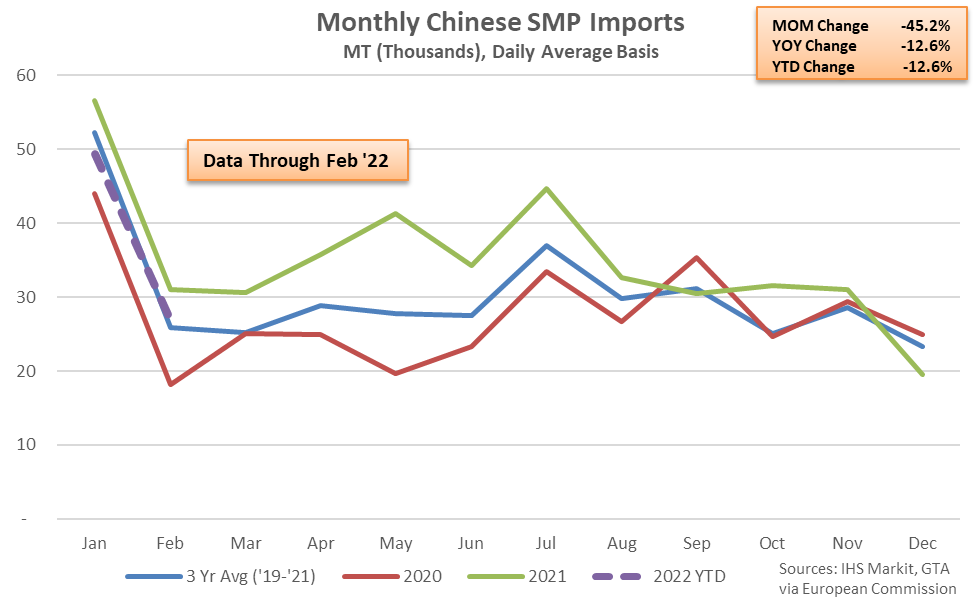 Feb '22 Chinese SMP Imports Remained at the Fourth Highest Seasonal Level on Record